---

Our 25th Annual Meeting in the 26th Clubyear
has taken place on September 22 - 24, 2000.




FMC member Franz Georg D. von Hirschberg
has organized this event at Weiden (East of Nürnberg).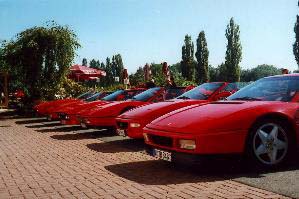 19 Ferrari-cars had been nominated
under other 250GT/E, 246GT Dino, 308GTB, Testarossa, 512TR,
Mondial 3.2, 328GTS, 348tb +ts, F355GTS +Spider, F40, 288GTO.

FMC member Manfred Vogel has organized
a "Concours d'Élégance en Miniature" and
a "Gran Premio Ferrari Arte".
Members could display their reduced scale Ferrari to the public
or their self-made works of art with regard to Ferrari.

For the prize-giving to the top 5 winners of our
Club Grand Prix 1999/2000
we have received partly as donation, partly
privately purchased prizes by the Clubpresident
from Mr. Bardinon's Collection Mas du Clos,
from BBR, Bang, Mattel, and Brumm.

---