---
S p e c i a l News
---
In Memoriam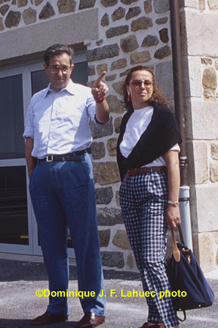 Mauro Forghieri (IT) engineer and Cavaliere, passed away on 02.11.2022
Mauro Forghieri passed away only two months before his 88th birthday (*13.01.1935)
He made his degree as mechanical engineer at Bologna. In 1961 he entered the racing
department of Ferrari and soon become the boss of it, as at the end of that year
Carlo Chiti, Giotto Bizzarrini and some other heads left Scuderi Ferrari. It was
said as reaction of severe problems with Enzo Ferraris wife Laura Garello-Ferrari.
Years later Forghieri went to Lamborghini and then to Bugatti, before becoming freelance
consultant.
In 1993 he was guest of honour of the Ferrari Club France at Mas du Clos of Pierre
Bardinon, for their 25th anniversary.
I was very lucky to meet him there and to shoot many pics with him. At this time I was
only member of the FMC, but have made all these connections on my own - w/o of help -
besides the one of Pierre Bardinon, who made my mentor.
When I took over the FMC as president and personal owner everything seemed to be OK.
After time a small circle of jealous people became evident and started to intrigue at
Ferrari of Germany, namely at Dr. Helmut Mander w/o ending.
No one of these simple minded blowhards of the FMC or of the Ferrari Club Germany
could imagine a single person with only heart for and w/o no real Ferrari to bring up friend-
ship w. Pierre Bardinon, Dott. Fabrizio Violati, Keith Bluemel or many others.


---
---